Home

Study Abroad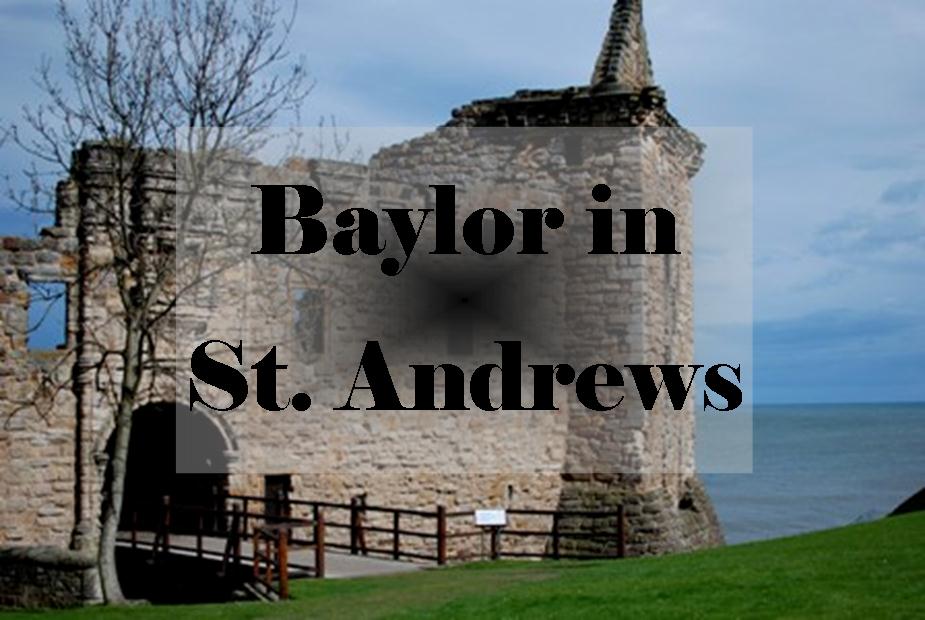 "Study and Live at One of the Most Prestigious Universities in the World"


During the Baylor in St Andrews program, students will live and study at the University of St Andrews in Scotland. The European-style courses will develop each student's academic skills.

As a group semester abroad program, Baylor in St Andrews creates a unique community atmosphere. Participants will travel with other Baylor students and a Baylor faculty member.

The St Andrews semester study abroad program is especially designed for Baylor students who are interested in philosophy and religion and the intersection and manifestations in culture and history. All majors are welcome to apply. St Andrews has an outstanding international reputation and is especially strong in philosophy, religion, the classics history, art history, psychology and the sciences. Academically highly-motivated students in these departments and the Honors College are encouraged to apply.

Only serious students who have completed at least 30 hours at Baylor should apply. Students must have a minimum 3.2 GPA (this will be assessed at the end of each semester). Students must have a clear judicial record or consent to go by Baylor University. The program is limited to 20 students. Applications are accepted after an interview with the program director.
Click here to:





Please direct all questions/concerns to:
Ms. Lexi English
Lexi_English@baylor.edu
254-710-1258
Students will be provided accommodations in the University of St Andrews residence halls. Baylor students will live in various residence halls as rooms are available. Students will not live with other Baylor students. They will room with Scottish and European students.

Almost all of the residence halls are located within the town within walking distance of the classrooms.
Fall 2015 Information
The Baylor in St Andrews - Fall 2014 program will run from September to late December, 2014.

Students will take courses at the University of St Andrews and one course from the program director.
Dr. Jeff Hunt
Assistant Professor, Department of Classics
Jeffrey Hunt teaches courses in Latin, Greek, BIC, and Great Text and has scholarly interests in Hellenistic poetry, ancient book production, reception, and Medieval and Renaissance Italian poetry. He is the faculty sponsor for the Pulse, Baylor's undergraduate journal, and has directed the Baylor in Italy program. Dr. Hunt's family will be joining him as he leads the St Andrews program. His wife, Jenny, and two children Sam, age 5, and Beth, age 3, are eager to experience the rich culture of Scotland.
Director's Course:
UNSC 4V01: Medieval and Renaissance Humanism

This course will explore the roots and development of the multi-faceted movement known as Humanism. Beginning with Petrarch, who is known as the father of Humanism, and his influences we will explore early iterations of Humanistic thought with particular focus on its reaction to scholasticism and its relation to Christian thought. We will also explore the great Humanist impulse, represented by figures such as Bassarion, to revive the literature, and with it the virtues, of the past and its effects on the literary tradition. The focus will then shift to Humanism in the Renaissance with further exploration of the relationship between Christianity and the increasingly secular and morally relative Humanist tradition.

All students will be required to take Dr. Hunt's course while attending the Baylor in St Andrews program. All other courses will be chosen from the 2015-2016 St Andrews University course list.
Spring 2016 Information
Dates: January 19th to May 28th, 2016
Students will take courses at the University of St Andrews and one course from the program director, Dr. Burns.
Dr. Timothy Burns
Professor, Department of Political Science

Tim Burns is a specialist in the history of political thought,
particularly ancient political philosophy and politics and
literature. He received his BA degree from Boston College,
where he also threw the javelin and lived with Augustinians.
His MA and PhD in political science were earned at the
University of Toronto. He taught at Skidmore College for
15 years before coming to Baylor in 2013, and has served as
graduate program director of the Political Science
department since 2014.

Dr. Burns lives in Waco with his wife, Ilsa Burns, a nutrition
coach and teacher of ESL. Their son Daniel teaches political
philosophy at the University of Dallas, and their son Dave is
a cellist in Austin.

Director's Course:
PSC 4V94: The American Founding

Examines the philosophic principles upon which the American
founders guided their attempt to establish the world's first liberal
democracy. Examines the thought of the Christian political thinkers
(Winthrop, Cotton, Niles) who had originally guided political
life in the new world, then the work of John Locke, the philosopher
who laid out most clearly a wholly new understanding of
political life, especially through his argument for individual natural
rights. Then examines the writings of Jefferson, Madison,
Hamilton, and Jay, and to their opponents (the "Anti-Federalists")
to see how Locke's understanding of human beings came to guide
the debate. Concludes with an examination of slavery in the writings
of Fredrick Douglass and Abraham Lincoln.