Home

Study Abroad Information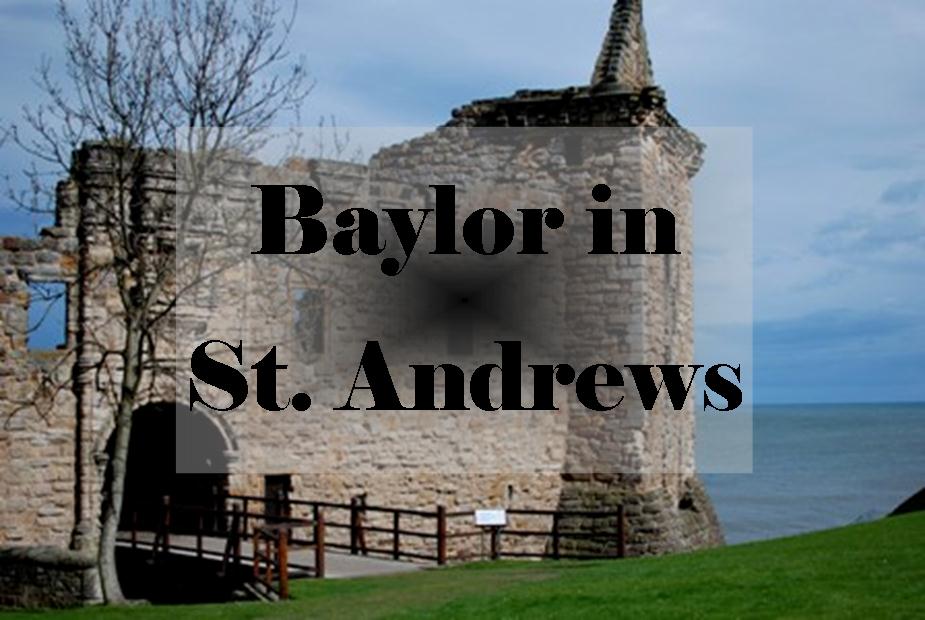 "Study and Live at One of the Most Prestigious Universities in the World"


During the Baylor in St. Andrews program, students will live and study at the University of St. Andrews in Scotland. The European-style courses will develop each student's academic skills.

As a group semester abroad program, Baylor in St. Andrews creates a unique community atmosphere. Participants will travel with other Baylor students and a Baylor faculty member.

The St. Andrews semester study abroad program is especially designed for Baylor students who are interested in philosophy and religion and the intersection and manifestations in culture and history. All majors are welcome to apply. St. Andrews has an outstanding international reputation and is especially strong in philosophy, religion, the classics history, art history, psychology and the sciences. Academically highly-motivated students in these departments and the Honors College are encouraged to apply.

Only serious students who have completed at least 30 hours at Baylor should apply. Students must have a minimum 3.2 GPA (this will be assessed at the end of each semester). Students must have a clear judicial record or consent to go by Baylor University. The program is limited to 20 students. Applications are accepted after an interview with the program director.
Click here to:





Please direct all questions/concerns to:
Ms. Lexi English
Lexi_English@baylor.edu
254-710-6783
Students will be provided accomodations in the University of St. Andrews residence halls. Baylor students will live in various residence halls as rooms are available. Students will not live with other Baylor students. They will room with Scottish and European students.

Almost all of the residence halls are located within the town within walking distance of the classrooms.
The Baylor in St. Andrews - Fall 2014 program will run from September to late December, 2014. You can view this semester's brochure by clicking here: St. Andrews Fall 2014 Brochure.pdf

Students will take courses at the University of St. Andrews and one course from the program director.
Dr. Natalie Carnes
Assistant Professor, Department of Religion
Natalie Carnes teaches a wide variety of issues and figures in Christian theology, but her writing asks questions about beauty, knowledge, and images. She received an BA degree from Harvard, a Master's in Theology from the University of Chicago, and a PhD from Duke University. She lives in Waco with her husband Matthew, who writes on theological issues around agriculture and land reform, and her two daughters Chora (four) and Edith (one), who do not write on any theological topics at all.Her family will join her for the program in St Andrews.
Director's Course:
REL 4300: Images and Idols

This course will explore the deep roots of image-making and image-breaking in the Christian tradition. We will pay special attention to the image-breaking that happened in St Andrews itself, where many altars were stripped and icons destroyed as idols in the Reformation. Yet not all images were smashed. The class will explore these sites of destruction and preservation as we ask: How do Christians discern image from idol?

All students will be required to take Dr. Carnes' course while attending the Baylor in St. Andrews program. All other courses will be chosen from the 2014-2015 St. Andrews's University course list.
Dates: January 20th to May 23rd, 2015

Semester Brochure
:
Spring 2015 Print Brochure
Students will take courses at the University of St. Andrews and one course from the program director.
Dr. Thomas Kidd
Professor, Department of History
Thomas Kidd specializes in the history of religion and politics in the eighteenth century. His most recent book is George Whitefield: America's Spiritual Founding Father (Yale University Press, fall 2014). He received a BA and MA from Clemson University, and his Ph.D. from the University of Notre Dame. He has taught at Baylor since 2002. Dr. Kidd lives in Waco with his wife, Ruby, and their two grade-school age sons, Jonathan and Joshua, who will be accompanying us in the program.

Director's Course:
HIS 4340: The Age of Revolutions in Britain and America
The eighteenth century in Scotland, England, and America saw enormous upheavals in religion, ideas, and politics, from the Great Awakening, to the Enlightenment, and the American Revolution. In this course, we will examine and compare the impact of those upheavals in Britain and America.

HP 1112: Scottish Hiking offered as an additional course
All students will be required to take Dr. Kidd's history course. All other courses will be chosen from the University of St. Andrews course list.