Programs

Brochure
This page is the online brochure for your selected program. You can view the provided information for this program on this page and click on the available buttons for additional options.
Bologna, Italy;
Capri, Italy;
Florence, Italy;
Paestum, Italy;
Pompeii, Italy;
Rome, Italy;
Venice, Italy;
Viterbo, Italy
(Outgoing Program)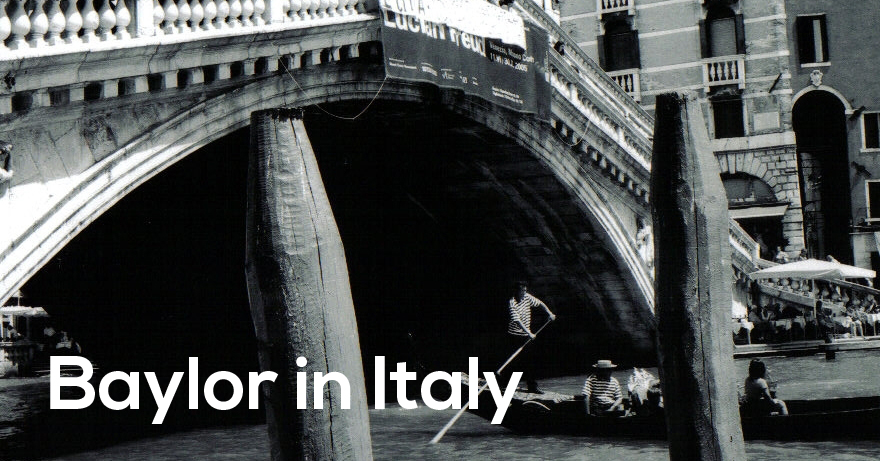 ---
Date:
Summer Session 1
Where:
Viterbo with weekend excursions around Italy
Cost:
$3,995 plus tuition is the program fee for each summer session. Students interested in attending for the whole summer are encouraged to do so, but must pay the program fee twice. Tuition and airfare to and from Europe not included.
Courses Offered

Summer 1:
CLA 3380: Classical Mythology
LAT 2310: Intermediate Latin
LAT 4V01: Advanced Readings in Cicero
ENG 2301: British Literature
ANT 4690: Field School in Physical Anthropology

Summer 2:
CLA 3321: Roman Topography
LAT 2320: Intermediate Latin 2
LAT 4V01: Advanced Readings in Virgil
FDM 3373: Screenwriting


Program Description

Baylor in Italy (BII) offers a variety of courses from a wide range of departments, including Classics, Latin, Anthropology, English, and Film and Digital Media. Students may fulfill Fine Arts credit with Classical Mythology (CLA 3380), do two semesters of Latin Language study (LAT 2310, 2320), be part of an archaeological survey (ANT 4690 – more information available through the Dept. of Anthropology), study British Literature (ENG 2301), learn on site in a Roman Topography course (CLA 3321), and study screenwriting (FDM 3373).

The accommodations in Italy are superb. In addition to our "home base" in Viterbo, Hotel Sant' Anna in Rome, just a short walk from St. Peter's Basilica, is a beautifully renovated building. On Capri, the Hotel Bianca Maria, located near the highest point of the island with its panoramic view of the Bay of Naples, is perfectly situated for strolls and shopping. In Paestum, the Hotel Poseidonia Mare is located right on the beach.

The sights, the sounds, the monuments, and the places you visit when you are in Italy become the class- room. In this academic program, you will take notes on site, visit excavations, climb under buildings, and see things off-limits to the general public.

Schedule

Summer 1:
31 May-5 July
First summer session in Viterbo

4 June
Daytrip to Rome

11 June
Daytrip to Cerveteri

18 June-19 June
Weekend in Rome

24 June-26 June
Bologna, Venice, Florence

1 July-3 July
Pompeii, Paestum

Summer 2:
7 July-10 August
Second summer session in Viterbo

9 July, Saturday
Rome

14-17 July
Bologna, Verona, Padua, and Parma

21-23 July
Prato, Florence, and Venice

29 July-31 July
Rome

4-6 August
Naples, Capri, and Paestum

Program Directors

ALDEN SMITH, (PhD, Pennsylvania, 1990), Co-Director
Has considerable expertise in Latin poetry, Roman topography and wall painting.
(254) 710-7392, Alden_Smith@baylor.edu

DAN HANCHEY, (PhD, Texas, 2009), Co-Director
Specializes in, Cicero, the Roman republic and Roman culture.
(254) 710-1174, Dan_Hanchey@baylor.edu

For More Information
For more information about the program in general, contact Dr. Hanchey at
Dan_Hanchey@baylor.edu
.
Term

Year

App Deadline

Decision Date

Start Date

End Date

Summer 2

2016

05/10/2016

05/10/2016

07/07/2016

08/10/2016


Indicates that deadline has passed